Ixpert services provide a tailored content marketing strategy for each client by mapping out the distribution and implementation of your brand's materials.
Our expert copywriters know how to nail the words to make you sell better. Our holistic approach facilitates clients to provide an easy and sharp pathway for their customers in order to achieve goals and facilitate engagement.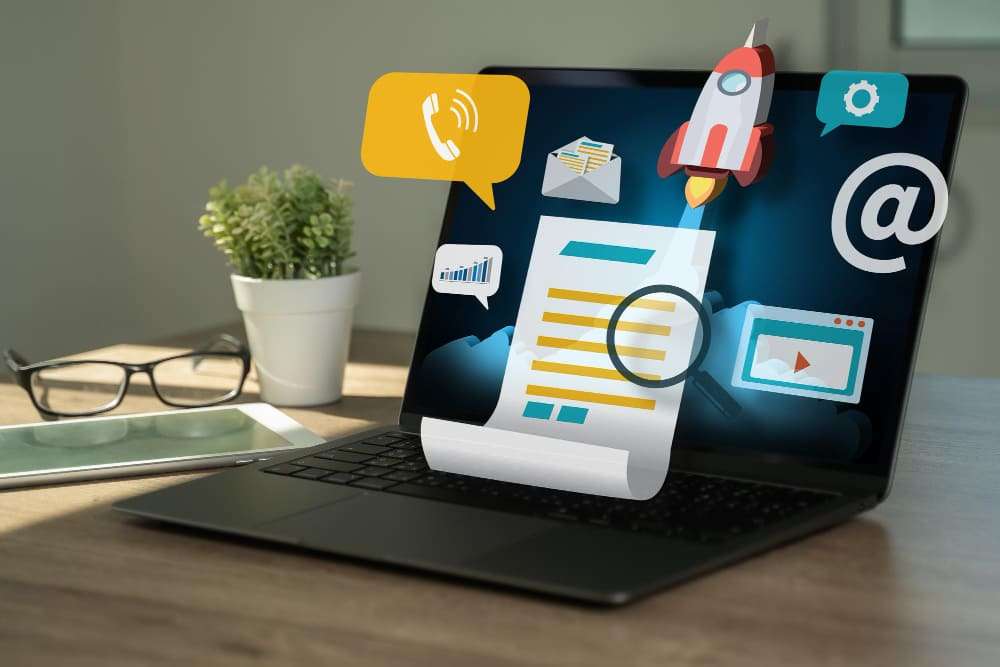 Ixpert can upsurge the website traffic across your digital marketing networks through proficient knowledge of the digital landscape. To convene the audience for your content, Ixpert customizes the content marketing strategies by taking into account all your website traffic sources such as social media, blog posts, referrals, emails, newsletters, organic and paid search etc. Our comprehensive and extensive understanding of SEO, PPC and social media marketing helps us to see a big picture for developing outstanding content marketing strategies.
Promoting business and attracting audience with content marketing
Ixpert's content writers can curate and plan content through extensive research and strategies to engage the audience. They also collaborate with SEO specialists to create customized content for different types of audiences. With our effective and appealing content planning, we make sure that your brand leaves a digital footprint in the marketing world which can be traced back to your business. You can find a number of our blogs, guides, articles, and eBooks on diverse types of businesses. Our foremost goals and mission are to help our clients to compete and excel their rivals with optimized content marketing strategies and assist them to build their online visibility.

Types of Content We Offer
Ixpert services provide various types of content for successful marketing campaigns. We offer not only informative but convincing and persuasive content to capture the interests of customers. We embrace diverse types of content and personalized them for each client to facilitate them to reach a large percentage of the audience.
Our expert content writers develop guides and blog posts to drive website traffic, and brand awareness, attract a top-of-funnel audience and lead generation. Blog posts for each client are optimized according to SEO keywords, hashtags, customer interest and unique selling points. We build the personality of your company and make it the trustable choice for customers through our blog posts. See how Ixperts' Blogging services help grow your business. The talented hands-on strategis will work with you to optimise and offer diverse pay spend across display networks, retargetting campaigns and syndication platforms
To determine whether your target should be a local audience or you have ability to appeal globally? . For more targeted search campaings your strategist can slice your messages into ad groups.
Strategists offer assistance in a way that they periodically adjust tactics and spend based on performance reports. For example, they decide which ad extensions make sense for your goals. Analyzing ongoing campaings gains your market intelligence.
For your campaign goals to be relevant and balanced knowlegable PPC professionals play a vital role. They find keywords that are competitive
By testing landing page efficiency PPC managers can help you improve your quality score. This is a very cruical step in converting ite visitors to customers.
Since competition in the field is increasing day by day your paid search management ensures they come up with ideas that make your ad appealing and entice potential customers.
SEO vs. PPC: Which is the Right Strategy for Your Brand?
If you are struggling to decide what is the best approach for the digital marketing strategy for your business? Or should you opt for organic search, PPC or explore another model? The answer is to first understand and analyze the demographics and online activities of your target and then make any decision. If you still have any doubts about whether pay-per-click is the right choice for you. Worry not, our PPC management firm is one of the best models out there to help you understand pay per click.
SEARCH ENGINE OPTIMIZATION
As much as SEO is an effective and common way to increase organic traffic, built customer trust and brand awareness. It is still not the best among all. Expert studies have shown some drawbacks and marketers who solely rely on organic search fail to reach their goals within the time limit. The reason to this is that it takes at least four to six months after your SEO campaign that you start seeing results. Studies show that within a year of publishing, only a 5.7 percent of web pages rank in the top 10 organic search for a single keyword. Even top-performing web pages normally take a two to six months to rank in top 10. If you are someone who is looking for an online marketing model which provides control flexibility and quick results pay per click is made for you.
In an ideal world, the best strategy to drive targeted results would be a combined SEO and PPC because it would offer you maximum visibility and relevancy along with long-term benefits. But if you have a short window to market your brand offerings and make any impact on the market, pay-per-click internet marketing is the best option for you. Not only it is cost-effective but it allows businesses a control over their ad spend and to offer their assistances in front of right people at right time and right place thus proving to be completely relevant. It makes fast result with guaranteed granular targeting available for you it's convenient for you to reach your ideal customers with one-time campaign promotions rather than waiting for months. In conclusion, it speeds up the customers' buying journey and gives a kick to the conversion rate.
Surpass Your Competition by Reaching New Customers
Ixperts Services believes in the power of integrated marketing communication to optimize the effectiveness of marketing campaigns across various social media platforms so that you are able to reach out to the maximum relevant audience in a timely manner. For this, we create tailored ad campaigns aligned with the goals and objectives of your business's social media marketing needs to launch across various social channels that include Facebook, Instagram, LinkedIn, You-tube, Pinterest and twitter to promote your offering, communicate brand values, drive quality traffic and cultivate long term positive customer relationships.
We will develop effective paid search campaigns focused on meeting your target cost per sale or lead, utilizing powerful research tools and industry experience. By investing in Google Ads, you will help highly eager buyers find your site who wouldn't necessarily find it through traditional (organic) search engine optimization techniques. The combination of our in-house team, along with our experience, makes us the leading Google AdWords company you want to work with.
Our experts have found LinkedIn an optimal place for business-to-business (B2B) companies to compel executives and decision-makers to partner with them. At Thrive, we take advantage of its native social media management software solutions to employ lead-generating enterprise social media management. Our array of LinkedIn management services are designed to bolster your brand credibility, demonstrate your thought-leadership, edge out your rivals and gain market trust.
Boasting over 1 billion daily active users, Facebook has sufficient reach to support social media management for everything from small business clients to large corporations. Its main appeal lies in its low-cost marketing, exact targeting and organic follower engagement. Maximize these benefits when you sign up for our Facebook management services. Our social media management company offers strategy recommendations, content development, comment monitoring for social content and paid advertising, among others.
Hop into the conversations that matter to your target audience, advocate causes your company believes in and cultivate an online community on Twitter. This chatty app is conducive to expanding your outreach and establishing your brand personality. Whether it's large enterprise or small business social media management you require, our Twitter management experts aid you in devising a cohesive, channel-specific strategy.
About one third of the 1 billion Instagram monthly active users have purchased a product on the visual storytelling app. Adapt social media marketing management on this platform to achieve your sales goals. You can leave the legwork to Thrive, an Instagram management agency with extensive experience in optimizing vanishing and user-generated content. We handle it all, from gallery posts and Instagram stories to interstitial ads.
Improve your add-to-cart and checkout rates when you share your eCommerce catalog on Pinterest. No other social media management agencies are as committed as Thrive in strategically posting, optimizing and positioning your pins. Responding to inbound engagement like comments, questions and feedback is also a part of our social media management business strategists' day.
Transitioning quickly as a rising star to a global platform, TikTok has taken social media by storm and helped level social media management for small businesses. Step up with TikTok for Business solutions that are well-designed for targeting, forging an authentic connection with and empowering the next generation. Entrust your social media content management to our specialists who understand how this massive platform works.
We offer three exclusive yet cost-effective packages for your brand and specifications of those packages are illustrated in the chart below;
BASIC
Networks:(Google Adwords;Bing ads;Facebook)
No.Of Keywords (50-Mix)
Text Ads
Banner Ads
Geo Targeting Setup
Conversion Tracking
Keyword Optimization
Ad Copy Optimization
Keyword Bid Optimization
Landing Page Optimization
Basic Consultation
Monthly Reporting & Goal Evaluation
ADVANCED
Networks All
Unlimited Keywords
Text Ads
Banner Ads
Geo Targeting Setup
Conversion Tracking
Keyword Optimization
Ad Copy Optimization
Keyword Bid Optimization
Landing Page Optimization
Competitor Analysis
Roi Analysis
Full Consultation
A/B Testing
Monthly Reporting & Goal Evaluation
Works together!
I Want to Know More About Scaling Readiness!
But in certain circumstances and owing to the claims of duty or the obligations of business it will frequently.